Target audiences
Otavamedia reaches 2.3 million Finns online and 1.6 million through magazines. Our media meet a consumer at the point of their interest, so you get the right ground for your message. We have grouped people sharing the same passions as Otava Profiles and tell you how to reach these people widely and effectively through print and online media mix. You also have access to Otava Audiences for more specific interest-based targeting, audiences according to IAB's categories, and the opportunity to have your own customized audience.
Otava Profiles
To help advertisers reach their target audience as widely as possible, we have created Otava Profiles. Each profile consists of people sharing the same passion, may it be wellbeing, golf, cooking, outdoor life, beauty, technology, gardening, renovation, cars, decorating home, or something else. Otava Profiles offer a great reach with an effective online and print media mix. Data and insight, understanding the needs of our customers and their use of content, are the fundamentals of Otava Profiles.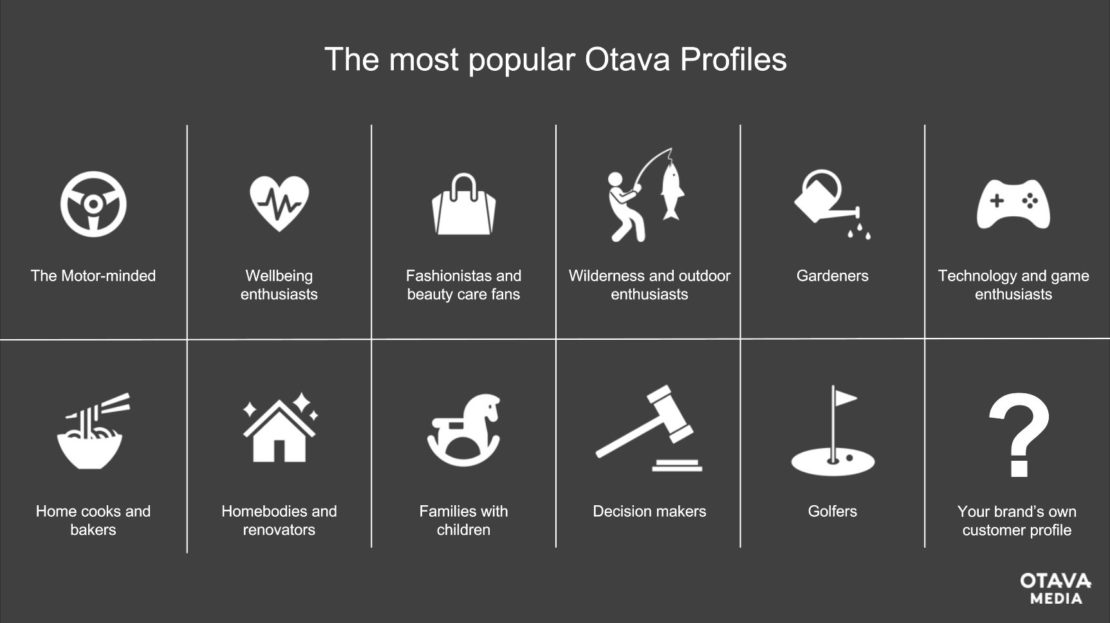 Otava Profiles can be combined with other targeting methods such as demographics.
You can click on the plus sign next to the headers below to see examples of Otava Profiles. There is much more data and information available, please get in touch with your Otavamedia contact person!
Homebodies and renovators
Wellbeing enthusiasts
Home cooks and bakers
Technology and game enthusiasts
The Motor-minded
Fashionistas and beauty care fans
Wilderness and outdoor enthusiasts
Otava Audiences (OM Audience)
Otava Audiences expand the IAB Audience Taxonomy.
Targeting Otava Audiences is replacing the former interest groups. Otava Audiences elaborate the option and the use of data with modelling visitors of whom interests are known to us. This makes targeting audiences more accurate and effective, compared to a random visitor on a site. Knowing the interest of a visitor also increases the sales intent, ex. this person loves baking, he/she is more likely to buy and try your new flour when exposed to your ad.
Because of modelling Otava Audiences offer both a known audience with interest and a new audience with the same interest.
OM Audience -listing
IAB Categories
IAB Audience Taxonomy is a well known and widely used standard for audience segments, naturally available at Otavamedia as well.
IAB Category List
Custom Audiences (OM Case)
OM Case -audiences are custom created for an advertiser's specific need. It doesn't get much more refined than this! Custom Audience is a perfect choice for sales funnel ad targeting, and building customer journeys. OM Case -audiences are based on modelling like OM Audiences so the end of third-party cookies era is not an issue here.
Collecting Seed audiences through funnel